Employee / People Tracking System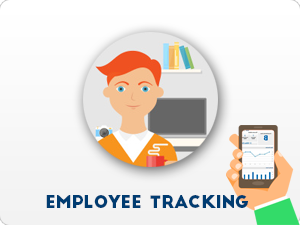 Employee / Workforce Tracking System in India
About e-TrackKing – GPS based Employee / Field-Workforce Tracking Application
e-TrackKing  [Android / iPhone Mobile based tracking System] is a comprehensive, Employee / Staff / Field Executive monitoring, control and management system. It's an effective low cost operation for fleet and HR operators, corporate organizations and agencies, Government. The essence of telemetry and use of location based services (LBS) is to enhance security, efficiency and reduce operation cost.
It is a GPS Employee Tracking Solution which works with Web Application, Android, iPhone App. Track all your field sales force LIVE Location across globe from smart phone through GPS tracking.
e-TrackKing Provides Best Field Force Tracking App in India
Our Sales Employee GPS tracking system allows you to manage your business resources effectively, providing access to vital information that helps to improve your sales / services and reduces cost. It is the solution which can show you all the required details of your business Employees with alert and reporting features.
Person Tracking Solution also enhances effective monitoring and control of personnel. We are an advanced Monitoring System with management capabilities that offers much more features than a standard GPS Tracking system at comparable, or in most cases lower cost. The system is backed by sophisticated developers and engineers with the ability to customize expand and successfully deploy it to virtually any application.
Workforce GPS Tracking Features:
Live Employee Location – Know EXACT location of your staff in Google Maps during office hours
Time Specific Tracking – Track ONLY during specific pre defined timings
One touch Group Notifications – Send messages to ALL your employees / departments at once
Department / Branches – Option of adding as many departments and employees for tracking
Auto Capture Attendance – Marks attendance based on defined time & location
Location Proof – Upload Geo-tagged images as proof of Location.
No Internet, Not to worry, No data loss! – App works offline, once you get connected to internet everything is synced to server
Many More – API Integration, Notes, Distance Travelled (KMs), SOS
Field Staff Mobile Tracking Application / Sales force GPS Employee / People tracking in India
Cloud based GPS Vehicle & Field Employee Tracking System platform used in over many countries for real-time tracking of People, Cars, Fleet & Assets using GPS trackers & Mobile Apps. We are your one top partner for GPS tracking business.
For Sales Employee Tracking App provide Free Android Mobile Phone Application and iPhone Application with GPS eTracking software (web based ) !! Our GPS based field employees Tracker have a unique feature which can work completely offline with Automatic Attendance option with Live monitoring and workforce automation on Web, Android and iPhone apps.
You Can track your Employee/Field Staff Live Location through Android and iPhone App, Industry where e-TrackKing is effectively used are Sales, Service, Pharma, Advertising & Campaigns, Logistics & Ecommerce, Security & Patrolling, High Value Goods, FMCG Industries, Family Tracking, (Personal Tracking )  Vehicle & Driver Tracking.
Sales Order Booking App – Mobile Order Placement System
We also take care of customized Mobile CRM – Mobile Order Management System for iPhone and Android Applications as per requirement for digital order booking platform.
Become a Partner, Distributor, Dealer
Call Us Today : +91-9885-000-879 for your GPS Sales Force / Field Employee Tracking Live Location  / Personal Tracker
e-TrackKing is useful for Employee, Work-force Management, Child Live Location Tracking, Spouse(Partner) Tracking, Senior Citizen Tracking, Personal Tracker using GPS Technology which can track even when no GPRS ( internet) connection also – works completely offline (hidden)
Top Sales Force GPS Tracking Solution / Field Employee Tracking System Provider in India
Our Service Available at below locations in India