School Bus Tracking System
School Bus Tracking is a location based service that helps you track the safety and location of school children while in transit, anytime, anywhere. Educational institutes across the country are steadily adopting this service for safety and security of children.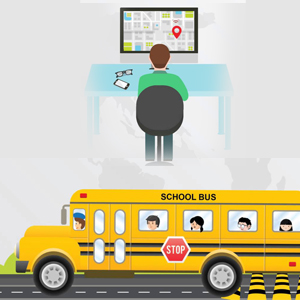 Our School Bus Tracking is specially designed for you to manage your fleet of buses effortlessly by transforming them into Smart Buses. This service facilitates administrative tasks that go along with ensuring the safety of a child. You stay aware of the whereabouts of children at all times. Parents are also kept updated using this service. Once can use this service for corporate employee transportation as well.
Features
Real time tracking: Track your bus real time on Web & Android App
Route replay: Replay the route that a bus has taken
Geo-fence: Get an alert as soon as the bus leaves a certain area
Geo-tagging: Each bus stop is marked on map to know bus position relative to school stops
Parent Alerts: Know the school bus Location Anytime Anywhere , SMS Alert- Bus Arival Time(Early, Delay, On-time).
Speed estimates: Get average and real time speed
Over speeding Alerts: Set a target speed and get sms alert on over speed. Also, get a history of all such alerts